[vc_row el_position="first"] [vc_column width="1/3″] [vc_column_text el_position="first last"]
Be A Step Ahead
Here are sites/blog using TalkEmbed
[/vc_column_text] [/vc_column] [vc_column width="2/3″] [vc_column_text el_position="first last"]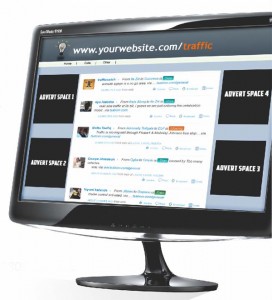 Extend your website/blog offerings with Traffic Updates with LIVE Cams
On your website, you could have a dedicated page that would spell like 'yourwebsite.com/traffic' that you would attract new visitors while retaining existing ones by sharing traffic updates there and letting them share with you too. You can do this by adding a simple HTML Embed code to your site wherever you want it to appear; full Page, sidebar, or footer.
Increased Page Views, Increased Revenue
Multiple adverts could be placed on that page and with a lot of your audience flocking in to get and share traffic updates with you. This doubles your income through ads.
[/vc_column_text] [/vc_column] [/vc_row] [vc_row el_position="last"] [vc_column] [vc_separator el_position="first"] [vc_raw_html el_position="last"] JTNDc2NyaXB0JTIwc3JjJTNEJTIyaHR0cHMlM0ElMkYlMkZhamF4Lmdvb2dsZWFwaXMuY29tJTJGYWpheCUyRmxpYnMlMkZqcXVlcnklMkYxLjkuMSUyRmpxdWVyeS5taW4uanMlMjIlM0UlM0MlMkZzY3JpcHQlM0UlMEElM0NzY3JpcHQlMjB0eXBlJTNEJTIydGV4dCUyRmphdmFzY3JpcHQlMjIlMjBzcmMlM0QlMjJodHRwJTNBJTJGJTJGYWJvdXQudHNhYm9pbi5jb20lMkZjb2xvcnBpY2tlciUyRmpzJTJGYm9vdHN0cmFwLWNvbG9ycGlja2VyLmpzJTIyJTNFJTIwJTNDJTJGc2NyaXB0JTNFJTBBJTNDc2NyaXB0JTIwdHlwZSUzRCUyMnRleHQlMkZqYXZhc2NyaXB0JTIyJTIwc3JjJTNEJTIyaHR0cCUzQSUyRiUyRmFib3V0LnRzYWJvaW4uY29tJTJGYm9vdHN0cmFwJTJGanMlMkZib290c3RyYXAuanMlMjIlM0UlMjAlM0MlMkZzY3JpcHQlM0UlMEElM0NsaW5rJTIwaHJlZiUzRCUyMmh0dHAlM0ElMkYlMkZhYm91dC50c2Fib2luLmNvbSUyRmJvb3RzdHJhcCUyRmNzcyUyRmJvb3RzdHJhcC5jc3MlMjIlMjByZWwlM0QlMjJzdHlsZXNoZWV0JTIyJTNFJTBBJTNDbGluayUyMGhyZWYlM0QlMjJodHRwJTNBJTJGJTJGYWJvdXQudHNhYm9pbi5jb20lMkZjb2xvcnBpY2tlciUyRmNzcyUyRmNvbG9ycGlja2VyLmNzcyUyMiUyMHJlbCUzRCUyMnN0eWxlc2hlZXQlMjIlM0UlMEElMEElM0NoMSUzRUdlbmVyYXRlJTIwVGFsa0VtYmVkJTIwQ29kZSUzQyUyRmgxJTNFJTBBJTNDcCUyMGlkJTNEJTIyZXJyb3IlMjIlM0UlM0MlMkZwJTNFJTBBJTIwJTIwJTIwJTIwJTNDZGl2JTIwc3R5bGUlM0QlMjJmbG9hdCUzQWxlZnQlM0IlMjB3aWR0aCUzQTU1MHB4JTNCJTIwaGVpZ2h0JTNBNjUwcHglM0IlMjBtYXJnaW4tcmlnaHQlM0EyNXB4JTNCb3ZlcmZsb3cteCUzQWF1dG8lM0IlMjBvdmVyZmxvdy15JTNBYXV0byUyMiUzRSUwQSUyMCUyMCUyMCUyMCUyMCUyMCUyMCUyMCUyMCUyMCUyMCUyMCUzQ2xlZ2VuZCUzRVByZXZpZXclM0MlMkZsZWdlbmQlM0UlMEElMjAlMjAlMjAlMjAlMjAlMjAlMjAlMjAlMjAlMjAlMjAlMjAlM0NkaXYlMjBpZCUzRCUyMmVtYmVkUHJldmlldyUyMiUyMHN0eWxlJTNEJTIyJTIyJTNFJTBBJTIwJTIwJTIwJTIwJTIwJTIwJTIwJTIwJTIwJTIwJTIwJTIwJTIwJTIwJTIwJTIwJTIwJTIwJTIwJTIwJTNDaWZyYW1lJTIwaWQlM0QlMjJlbWJlZGZyYW1lJTIyJTIwc3JjJTNEJTIyaHR0cCUzQSUyRiUyRndpZGdldC50c2Fib2luLmNvbSUyMiUyMHdpZHRoJTNEJTIyMTAwJTI1JTIyJTIwaGVpZ2h0JTNEJTIyYXV0byUyMiUyMHN0eWxlJTNEJTIyd2lkdGglM0ExMDAlMjUlM0IlMjBtaW4td2lkdGglM0EzMDBweCUzQiUyMG1pbi1oZWlnaHQlM0E1NTBweCUyMiUyMHNjcm9sbGluZyUzRCUyMnllcyUyMiUyMGZyYW1lQm9yZGVyJTNEJTIyMCUyMiUyMHNlYW1sZXNzJTNEJTI3c2VhbWxlc3MlMjclM0VCcm93c2VyJTIwbm90JTIwY29tcGF0aWJsZS4lM0MlMkZpZnJhbWUlM0UlMEElMjAlMjAlMjAlMjAlMjAlMjAlMjAlMjAlMjAlMjAlMjAlMjAlM0MlMkZkaXYlM0UlMEElMjAlMjAlMjAlMjAlM0MlMkZkaXYlM0UlMEElMjAlMjAlMjAlMjAlM0NkaXYlMjBzdHlsZSUzRCUyMmZsb2F0JTNBbGVmdCUzQiUyMHdpZHRoJTNBNDUwcHglMjIlM0UlMEElMjAlMjAlMjAlMjAlM0NsZWdlbmQlM0VDdXN0b21pemUlMjBZb3VycyUzQyUyRmxlZ2VuZCUzRSUwQSUyMCUyMCUyMCUyMCUzQ2Zvcm0lMjBhY3Rpb24lM0QlMjIuJTIyJTIwbWV0aG9kJTNEJTIycG9zdCUyMiUyMGNsYXNzJTNEJTIyZmV0Y2hFbWJlZENvZGUlMjIlMjBpZCUzRCUyMmZldGNoRW1iZWRDb2RlJTIyJTNFJTBBJTIwJTIwJTIwJTIwJTIwJTIwJTNDcCUzRSUwQSUyMCUyMCUyMCUyMCUyMCUyMCUyMCUyMCUzQ2xhYmVsJTNFWW91ciUyMERvbWFpbiUyMG5hbWUlM0MlMkZsYWJlbCUzRSUwQSUyMCUyMCUyMCUyMCUyMCUyMCUyMCUyMCUyMCUyMCUzQ2lucHV0JTIwdHlwZSUzRCUyMnRleHQlMjIlMjBuYW1lJTNEJTIyZG9tYWluJTIyJTIwaWQlM0QlMjJkb21haW4lMjIlMjBwbGFjZWhvbGRlciUzRCUyMnlvdXJkb21haW4uY29tJTIyJTIwc3R5bGUlM0QlMjJ3aWR0aCUzQTI1MHB4JTIyJTNFJTBBJTIwJTIwJTIwJTIwJTIwJTIwJTIwJTIwJTBBJTIwJTIwJTIwJTIwJTIwJTIwJTNDJTJGcCUzRSUwQSUyMCUyMCUyMCUyMCUyMCUyMCUzQ3AlM0UlMEElMjAlMjAlMjAlMjAlMjAlMjAlMjAlMjAlM0NsYWJlbCUzRUJhY2tncm91bmQlMjBDb2xvciUzQyUyRmxhYmVsJTNFJTBBJTIwJTIwJTIwJTIwJTIwJTIwJTIwJTIwJTIwJTIwJTNDaW5wdXQlMjB0eXBlJTNEJTIydGV4dCUyMiUyMG5hbWUlM0QlMjJiYWNrZ3JvdW5kJTIyJTIwaWQlM0QlMjJiYWNrZ3JvdW5kJTIyJTIwY2xhc3MlM0QlMjJjb2xvcnBpY2slMjIlMjBzdHlsZSUzRCUyMndpZHRoJTNBNzBweCUyMiUyMHNpemUlM0QlMjI3JTIyJTIwdmFsdWUlM0QlMjIlMjNmZmYlMjIlM0UlMEElMjAlMjAlMjAlMjAlMjAlMjAlMjAlMjAlMEElMjAlMjAlMjAlMjAlMjAlMjAlM0MlMkZwJTNFJTBBJTIwJTIwJTIwJTIwJTIwJTIwJTNDcCUzRSUwQSUyMCUyMCUyMCUyMCUyMCUyMCUyMCUyMCUzQ2xhYmVsJTNFQ2FtJTIwbGlzdCUyMHRleHQlMjBDb2xvciUyMCUzQyUyRmxhYmVsJTNFJTBBJTIwJTIwJTIwJTIwJTIwJTIwJTIwJTIwJTIwJTIwJTNDaW5wdXQlMjB0eXBlJTNEJTIydGV4dCUyMiUyMG5hbWUlM0QlMjJ0eHRDb2xvciUyMiUyMGlkJTNEJTIydHh0Q29sb3IlMjIlMjBjbGFzcyUzRCUyMmNvbG9ycGljayUyMiUyMHN0eWxlJTNEJTIyd2lkdGglM0E3MHB4JTIyJTIwc2l6ZSUzRCUyMjclMjIlMjB2YWx1ZSUzRCUyMiUyMzIyMiUyMiUzRSUwQSUyMCUyMCUyMCUyMCUyMCUyMCUzQyUyRnAlM0UlMEElMjAlMjAlMjAlMjAlMjAlMjAlM0NwJTNFJTNDaW5wdXQlMjBuYW1lJTNEJTIyZ2VuQ29kZSUyMiUyMGlkJTNEJTIyZ2VuQ29kZSUyMiUyMHR5cGUlM0QlMjJidXR0b24lMjIlMjB2YWx1ZSUzRCUyMlByZXZpZXclMkZHZW5lcmF0ZSUyMEVtYmVkJTIwQ29kZSUyMiUzRSUzQyUyRnAlM0UlMEElMjAlMjAlMjAlMjAlM0MlMkZmb3JtJTNFJTBBJTIwJTIwJTIwJTIwJTNDJTJGZGl2JTNFJTBBJTIwJTIwJTIwJTIwJTNDZGl2JTIwc3R5bGUlM0QlMjJmbG9hdCUzQWxlZnQlM0IlMjB3aWR0aCUzQTM1MHB4JTIyJTNFJTBBJTIwJTIwJTIwJTIwJTIwJTIwJTIwJTIwJTNDZmllbGRzZXQlM0UlMEElMjAlMjAlMjAlMjAlMjAlMjAlMjAlMjAlMjAlMjAlMjAlMjAlM0NsZWdlbmQlM0VFbWJlZCUyMENvZGUlM0MlMkZsZWdlbmQlM0UlMEElMjAlMjAlMjAlMjAlMjAlMjAlMjAlMjAlMjAlMjAlMjAlMjAlM0NwJTNFJTBBJTIwJTIwJTIwJTIwJTIwJTIwJTIwJTIwJTIwJTIwJTIwJTIwJTIwJTIwJTIwJTIwJTNDdGV4dGFyZWElMjBpZCUzRCUyMmVtYmVkQ29kZSUyMiUyMHJvd3MlM0QlMjIxNSUyMiUyMGNvbHMlM0QlMjI0NSUyMiUyMHN0eWxlJTNEJTIyaGVpZ2h0JTNBMjAwcHglMjIlM0UlM0MlMkZ0ZXh0YXJlYSUzRSUwQUNvcHklMjBhbmQlMjBwYXN0ZSUyMHRoaXMlMjBodG1sJTIwY29kZSUyMGV4YWN0bHklMjB3aGVyZSUyMHlvdSUyMHdhbnQlMjBpdCUyMHRvJTIwYXBwZWFyJTIwb24lMjB5b3VyJTIwcGFnZSUyMG9yJTIwc2lkZWJhciUyMHdpZGdldC4lMjBJdHMlMjB0aGF0JTIwc2ltcGxlJTIxJTBBJTIwJTIwJTIwJTIwJTIwJTIwJTIwJTIwJTIwJTIwJTIwJTIwJTNDJTJGcCUzRSUwQSUyMCUyMCUyMCUyMCUyMCUyMCUyMCUyMCUzQyUyRmZpZWxkc2V0JTNFJTBBJTIwJTIwJTIwJTIwJTNDJTJGZGl2JTNFJTBBJTIwJTIwJTIwJTNDZGl2JTIwc3R5bGUlM0QlMjJjbGVhciUzQWJvdGglMjIlM0UlM0MlMkZkaXYlM0UlMEElMjAlMjAlMjAlMEElM0NzY3JpcHQlM0UlMEElMDklMDklMjQlMjhmdW5jdGlvbiUyOCUyOSU3QiUwQSUwOSUwOSUwOSUyNCUyOCUyNy5jb2xvcnBpY2slMjclMjkuY29sb3JwaWNrZXIlMjglN0IlMEElMDklMDklMDklMDlmb3JtYXQlM0ElMjAlMjdoZXglMjclMEElMDklMDklMDklN0QlMjklM0IlMEElMEElMDklMDklMDklMjQlMjglMjclMjNnZW5Db2RlJTI3JTI5LmNsaWNrJTI4ZnVuY3Rpb24lMjglMjklMjAlN0IlMEElMDklMDklMDklMDl0cnklMjAlN0IlMEElMDklMDklMDklMDklMDl2YXIlMjBpZnJhbWUlMjAlM0QlMjBkb2N1bWVudC5nZXRFbGVtZW50QnlJZCUyOCUyN2VtYmVkZnJhbWUlMjclMjklM0IlMEElMDklMDklMDklMDklMDliZyUyMCUzRCUyMCUyNCUyOCUyNyUyM2JhY2tncm91bmQlMjclMjkudmFsJTI4JTI5LnN1YnN0ciUyODElMjklM0IlMEElMDklMDklMDklMDklMDl0eHQlMjAlM0QlMjAlMjQlMjglMjclMjN0eHRDb2xvciUyNyUyOS52YWwlMjglMjkuc3Vic3RyJTI4MSUyOSUzQiUwQSUwOSUwOSUwOSUwOSUwOWRvbWFpbiUyMCUzRCUyMCUyNCUyOCUyNyUyM2RvbWFpbiUyNyUyOS52YWwlMjglMjklM0IlMEElMDklMDklMDklMDklMDl2YXIlMjBwYXR0ZXJuJTIwJTNEJTIwJTJGJTVFJTVCYS16MC05LSU1Qy4lNUQlMkIlNUMuJTVCYS16JTVEJTdCMiUyQzQlN0QlMkYlM0IlMEElMDklMDklMDklMDklMDklMkYlMkZpZiUyOGRvbWFpbi5sZW5ndGglMjAlM0MlM0QlMjAzJTI5JTdCJTBBJTA5JTA5JTA5JTA5JTA5aWYlMjhwYXR0ZXJuLnRlc3QlMjhkb21haW4lMjklMjklN0IlMEElMDklMDklMDklMDklMDklMDklMkYlMkYlMEElMDklMDklMDklMDklMDklMDlzcmMlMjAlM0QlMjAlMjJodHRwJTNBJTJGJTJGd2lkZ2V0LnRzYWJvaW4uY29tJTJGaW5kZXgucGhwJTNGdXRtX3NvdXJjZSUzRCUyMiUyQiUyMGRvbWFpbiUyMCUyQiUyMiUyNnV0bV9tZWRpdW0lM0R3aWRnZXQlMjZ1dG1fY2FtcGFpZ24lM0RtZWRpYSUyNTIwd2lkZ2V0JTI2cGtfY2FtcGFpZ24lM0QlMjIlMkIlMjBkb21haW4lMjAlMkIlMjIlMjZiZyUzRCUyMiUyQmJnJTJCJTIyJTI2dHh0JTNEJTIyJTJCdHh0JTNCJTBBJTA5JTA5JTA5JTA5JTA5JTA5aWZyYW1lLnNyYyUyMCUzRCUyMHNyYyUzQiUwQSUwOSUwOSUwOSUwOSUwOSUwOWVtYmVkQ29kZSUyMCUzRCUyMCUyNyUzQ2lmcmFtZSUyMGlkJTNEJTIyZW1iZWRmcmFtZSUyMiUyMHNyYyUzRCUyMiUyNyUyQnNyYyUyQiUyNyUyMiUyMHdpZHRoJTNEJTIyMTAwJTI1JTIyJTIwaGVpZ2h0JTNEJTIyYXV0byUyMiUyMHN0eWxlJTNEJTIyd2lkdGglM0ExMDAlMjUlM0IlMjBtaW4td2lkdGglM0EzMDBweCUzQiUyMG1pbi1oZWlnaHQlM0E1NTBweCUyMiUyMHNjcm9sbGluZyUzRCUyMnllcyUyMiUyMGZyYW1lQm9yZGVyJTNEJTIyMCUyMiUyMHNlYW1sZXNzJTNEJTIyc2VhbWxlc3MlMjIlM0VCcm93c2VyJTIwbm90JTIwY29tcGF0aWJsZS4lM0MlMkZpZnJhbWUlM0UlMjclM0IlMEElMDklMDklMDklMDklMDklMDklMjQlMjglMjclMjNlbWJlZENvZGUlMjclMjkudmFsJTI4ZW1iZWRDb2RlJTI5JTNCJTBBJTA5JTA5JTA5JTA5JTA5JTA5JTBBJTA5JTA5JTA5JTA5JTA5JTA5JTI0JTI4JTIyaHRtbCUyQyUyMGJvZHklMjIlMjkuYW5pbWF0ZSUyOCU3QiUyMHNjcm9sbFRvcCUzQSUyMCUyNCUyOCUyMiUyM2VtYmVkQ29kZSUyMiUyOS5vZmZzZXQlMjglMjkudG9wLTEwJTIwJTdEJTJDJTIwNTAwJTI5JTNCJTBBJTA5JTA5JTA5JTA5JTA5JTdEZWxzZSU3QiUwQSUwOSUwOSUwOSUwOSUwOSUwOWFsZXJ0JTI4JTIyUGxlYXNlJTIwcHV0JTIweW91ciUyMGRvbWFpbiUyMG5hbWUlMjIlMjklM0IlMEElMDklMDklMDklMDklMDklMDlyZXR1cm4lMjBmYWxzZSUzQiUwQSUwOSUwOSUwOSUwOSUwOSU3RCUwQSUwOSUwOSUwOSUwOSUwOSUwQSUwOSUwOSUwOSUwOSU3RCUyMGNhdGNoJTIwJTI4ZSUyOSUyMCU3QiUwQSUwOSUwOSUwOSUwOSUwOSUyRiUyRiUwQSUwOSUwOSUwOSUwOSU3RCUwQSUwOSUwOSUwOSUwOXJldHVybiUyMGZhbHNlJTNCJTBBJTA5JTA5JTA5JTdEJTI5JTNCJTBBJTA5JTA5JTA5JTIwJTIwJTBBJTA5JTA5JTdEJTI5JTNCJTBBJTA5JTNDJTJGc2NyaXB0JTNF [/vc_raw_html] [/vc_column] [/vc_row]