To make Tsaboin Traffic Talk easier to access and to make the experience a little bit better, we now have Tsaboin Traffic TalkLite.
The new amazing mobile application that is available across all platforms of smart phones. Now you can share your traffic experience with ease and check traffic updates on the go.
Tsaboin TalkLite was designed with consideration for ergonomics with usability as its core, it's so easy to get around it and you ALREADY know how to operate it.
The mobile app is available in major app stores and markets. Visit our Download -> Apps to select your phone type and get under-way into a whole new experience.
---
Traffic in Lagos is always described in spatial context. You can say from Ojota to Ketu is free or blocked.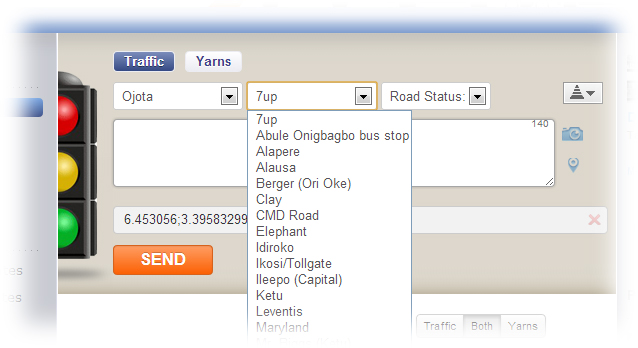 The smallest unit in the spatial context of road use is indeed the bus stops, which is why we have done a good job in putting up most of the bus stops in the Lagos metropolis and even some of the arterial routes. This has made posting traffic updates very easy and effortless, and you only have to post traffic updates the same way you talk about it; you pick the 'from' and the 'to', the status of the road, possible cause, you leave your comment and voila! It goes live.
When you want to check the traffic status of a particular bus stop and the road around it, very easy, just search for it and you would see streams of updates about the bus stop. By the time you see traffic update on your general timeline or on the timeline of a bus stop, you can confirm its validity to affirm it, you can reply that update and you can broadcast it. The broadcast feature has gotten even bigger, you can broadcast to your Tsaboin Traffic Talk timeline, and you can share with your friends on Facebook and Twitter.
It's now even a lot easier to get a grip of information about a bus stop with the colour coding feature. No time to read all the text? Just check the colour coding. Each traffic status from free to blocked is specially colour coded to register faster on the mind, just like the traffic lights on the street is self-explanatory; Green is for free, red is for blocked, and everything in between.
---
Tsaboin Traffic talk makes it easy for you to share your traffic experience and to get traffic updates. Take it for a spin and find out more for yourself.