A stream-oriented social utility service
Road users use Traffic Talk to help each other beat the traffic. Saving Time and Fuel.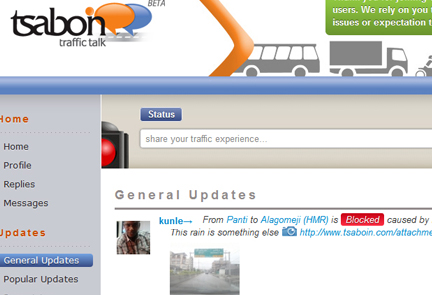 Traffic Talk is a platform that road users can use to help each other beat traffic by informing them about the traffic conditions, thereby providing others with information with which they can use to make smarter decisions about routes to take. One of the major strengths of Tsaboin Traffic Talk is the fact that it is a convergence of road traffic related issues and users would not have to swim across a pool of random information before they get to the shore of the vital information they need to make their commuting faster and easier.
In summary, it's a place where you can know what lies ahead.
---
With complete form and functionality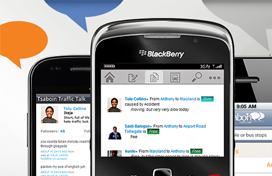 This service is also available on mobile phones as mobile apps for smartphones; meaning you are always in the loop anywhere you go. With mobile apps for Blackberry, iPhone, Android, Nokia and Windows, sharing traffic experience is way easier, even with options to share details on your favourite social networks.
Now on mainstream media (television and radio), Tsaboin Traffic Talk is now helping lots of Lagosians to navigate through roads with foreknowledge, saving them time and fuel in the process. It shows the immense power of information sharing.
It contains functions that are specific for road users, so they can have an easy and fast experience. You can check your home timeline (a timeline consisting of the bus stops and individuals you are subscribed to), or your general update (which contains every traffic detail from every bus stop). You can search for bus stops and people and you can post road traffic details of places around you to help others make smarter decisions.